Corsair TC100 relaxed bucks the current trend in gaming chairs. It offers excellent comfort and top-of the-range features for a lower price than other brands. This chair feels like Corsair is going after Secretlab. While there are some flaws, it is an excellent gaming chair that you shouldn't miss.
At only $249.99 / £199.99, it comes in significantly cheaper than the likes of Secretlab's Titan Evo 2022, which is our current pick for the best gaming chair. It's difficult to find bespoke gaming chair at this price range without considering the budget, especially if you want quality construction and plush comfort. 
It is disappointing that there are very few design options available. This will make it difficult for gamers who want a chair with more personality. This chair is a strong contender due to its great armrests, plush cushioning and the type of plush padding usually reserved for office chairs. 
Design and Features
Corsair TC100 Relaxed aims to offer a mix of ergonomic gaming chairs that are supportive and correct postures, as well as the plush comfort you'd find in many office chairs. This is achieved by using a wider seat with softer contact points, while still keeping true to the iconic racer-style design that can support the body for long hours.
The TC100 Relaxed is available in a Plush Leatherette or Soft Fabric. It feels like a couch's upholstery. In the Leatherette material, the chair is only available in a deep Black & Black colour. The fabric model, however, can come in the same Black & Black, or in a slightly lighter Grey & Black. I'd like to have more choices in terms of design & colour, especially since the biggest draw of gaming chairs is their personalization.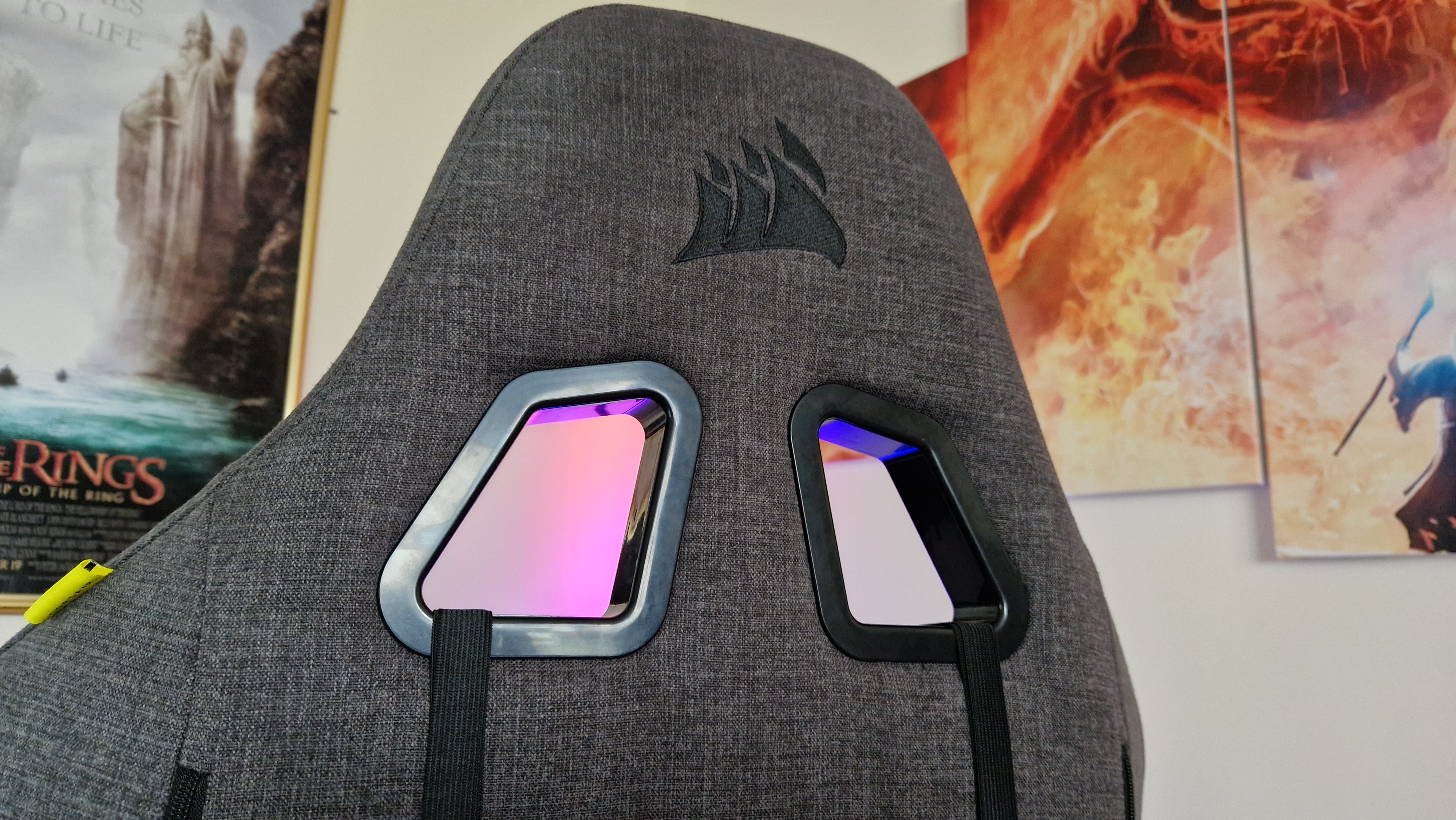 I was sent the fabric Grey & Black variant for testing, which blends in really nicely with my black wooden desk. This fabric is highly breathable which is great for gaming chairs as people spend a lot of their time in them. Unbreathable materials and leather can be uncomfortable during the summer, but the TC100 relaxed feels comfortable and consistent.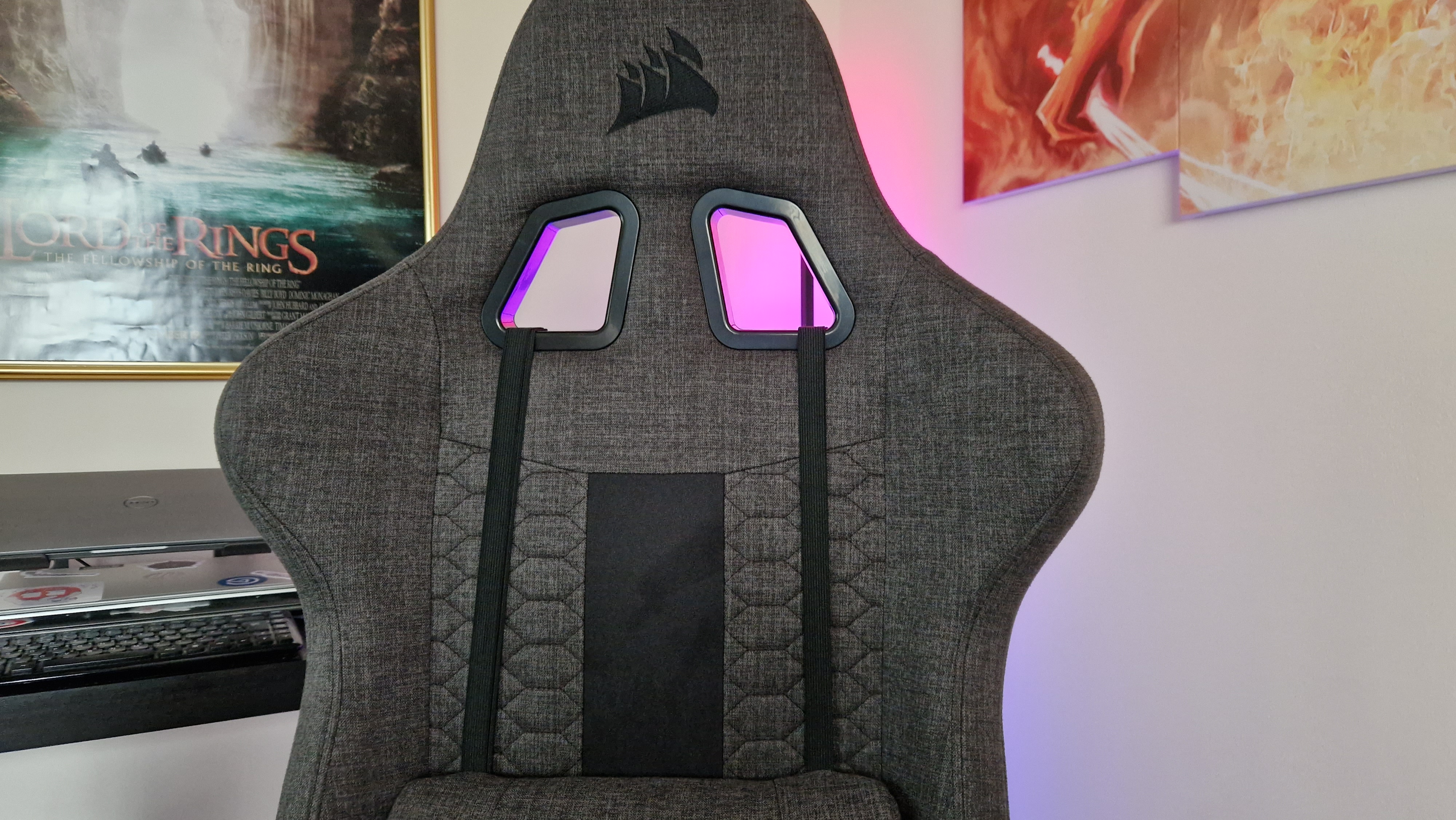 Size-wise, the chair measures 81cm in height, 38cm in depth, 59.5cm wide, 54cm wide, 55cm deep, and has a seatbase width of 54cm. It also has a 65cm wheel caster diameter. Corsair claims that the maximum weight the chair can support is 120kg/264 lbs. In terms of maneuverability, there's a 10cm gas lift range for height adjusting, a 90-150° Reclining seat back, and 65mm anti-roll dual-wheel casters. You can also match the armrests with the best gaming desks by making them fully adjustable in height.
The box contained plenty of nuts and bolts for assembly. I found this to be a nice touch. The standard neck and lumbar support cushions are included. They can be worn around the back of your chair if you don't need them.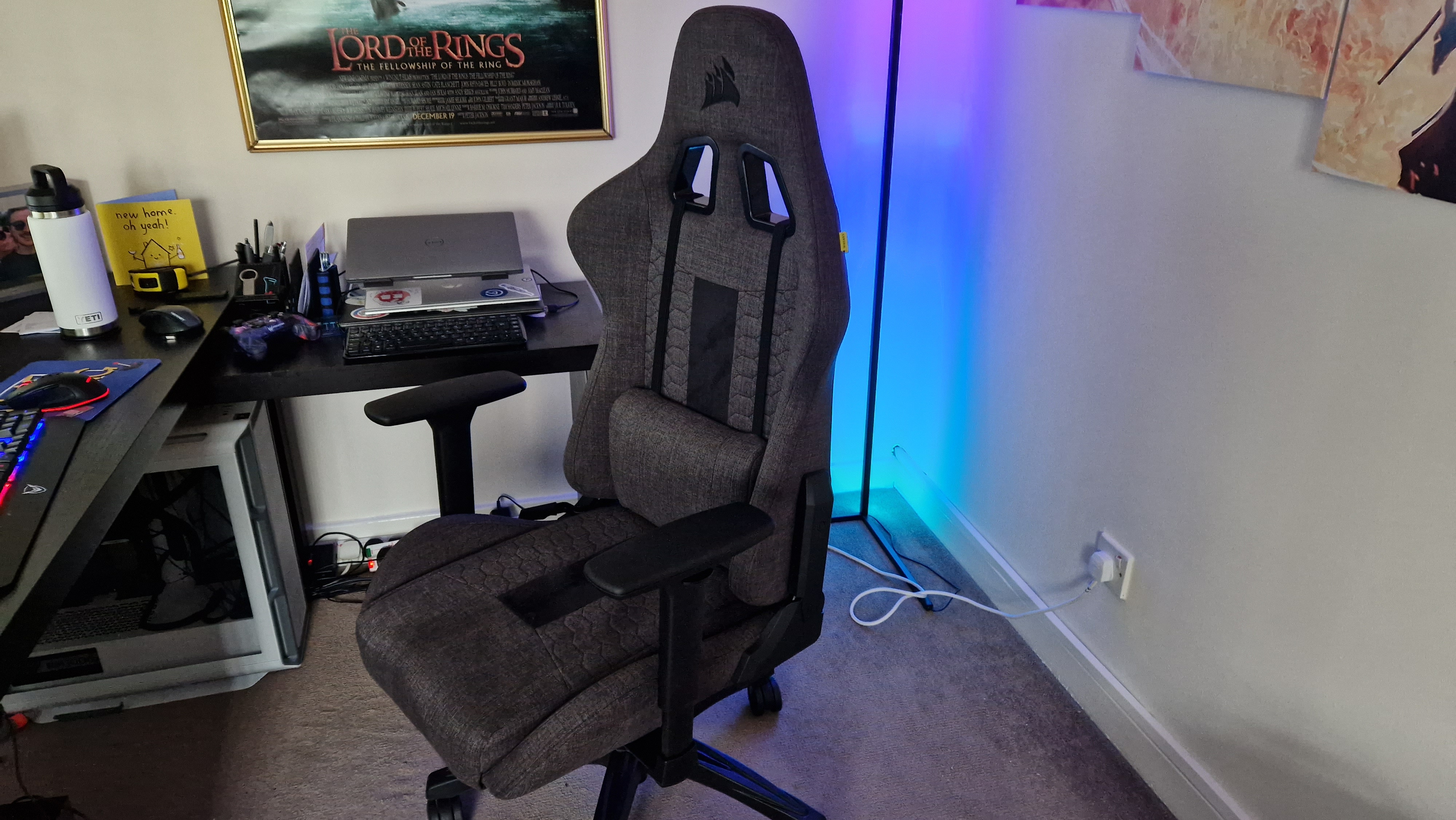 Performance
The TC100 Relaxed's true star is its seat cushion. I have tried a lot of gaming chairs, but I prefer ergonomic, more rigid office chairs. Gaming chairs are designed to improve posture. However, I find them too rigid and uncomfortable. The TC100 relaxed felt like a good compromise. It provided the comfort and plush padding I prefer, while still giving my spine more support.
It may sound strange, but I love the feeling of being able to sit down in this chair. The TC100 Relaxed captures you from the moment you first attempt to assemble it, all the way through the confidence of your first fall into it. It's a great choice for console gamers looking for the best gaming chair.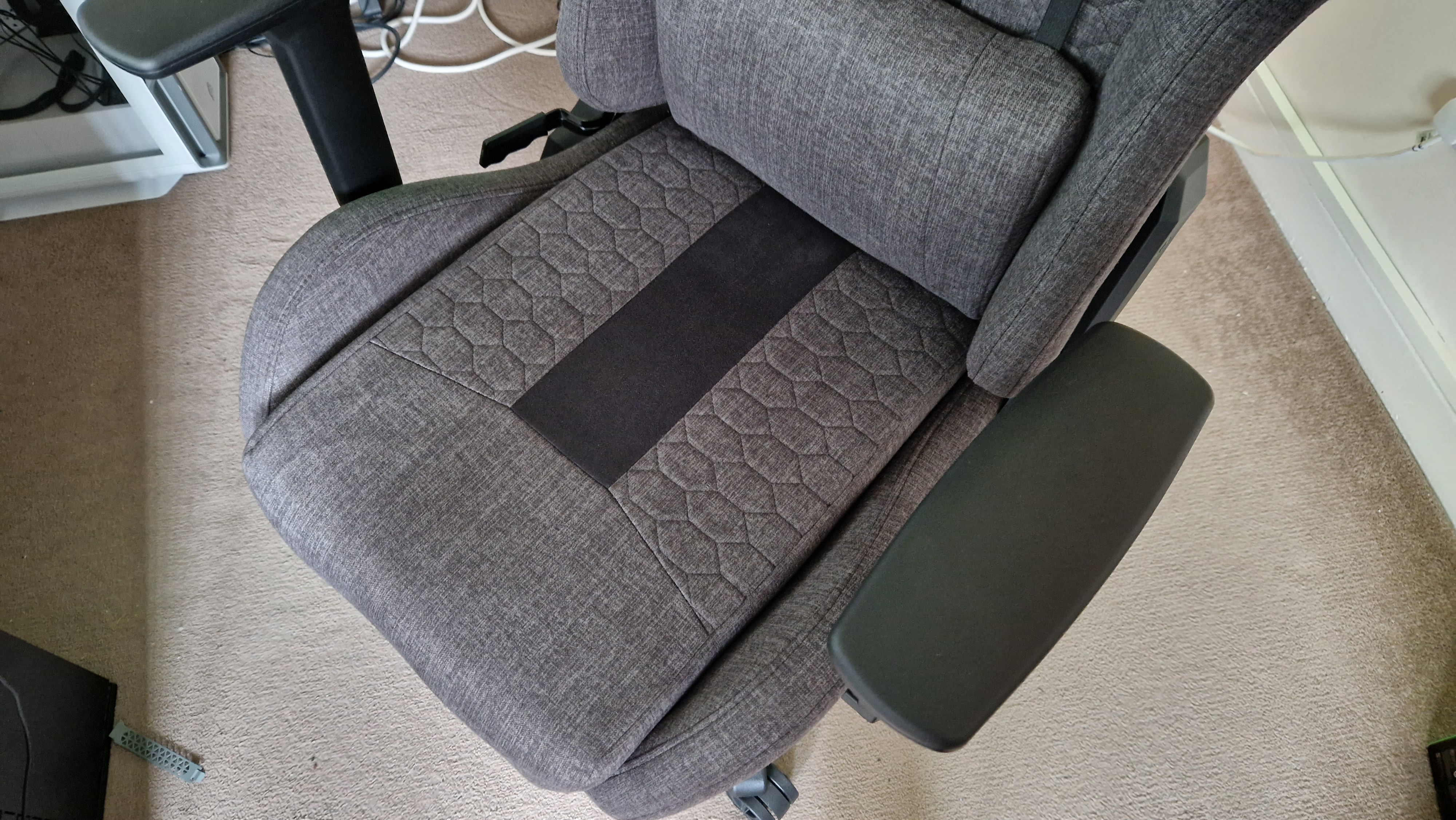 Out of all its dimensions, the one I love most is the seat width and depth. The chair offers many different positions that you can take without feeling restricted or cramped. While gaming chairs are designed to improve posture, there are mechanisms in the TC100 relaxed to do that. But let's not be too hard on ourselves. How many people actually use the posture-corrected position they are supposed to be in? I found that the chair had a deeper seat than my usual, so I could sink into it when feeling lazy. The extra width also allowed me cross-legged for more than one occasion. Yes, I am a freak.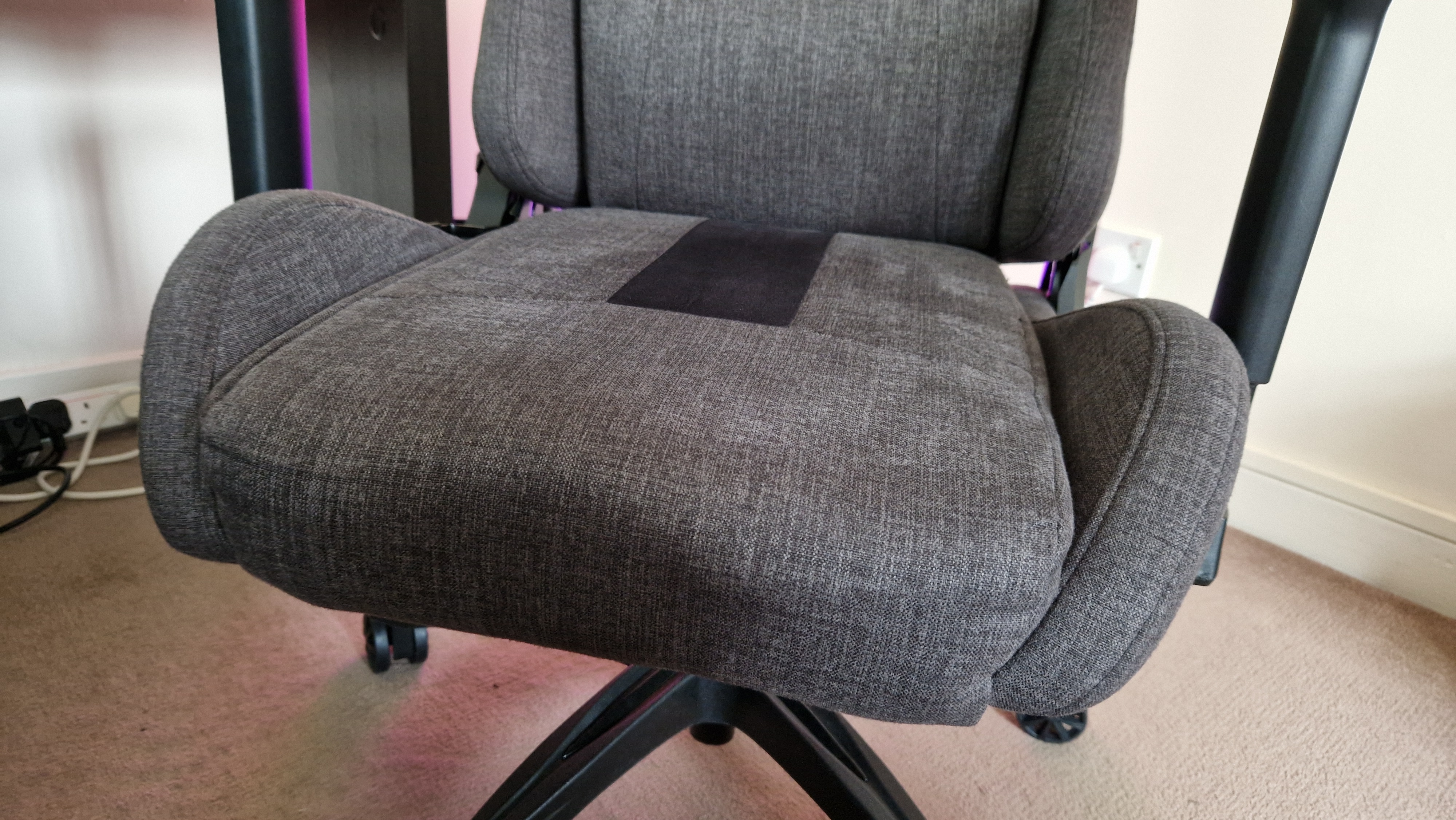 If you didn't know that I have poor posture and a bad sitting position, the neck cushions included with gaming chairs are something I don't like. Combine them with the rigid backs, lumbar support, and rigid neck cushions, it feels like I'm being pulled inwards more than I would naturally. The neck cushion and lumbar support felt a little intrusive in this chair. They feel too stiff and out of place with the rest. I liked having the lumbar support attached. It definitely helped me to better assess my posture.
The chair as a whole feels way more premium than its price would suggest – not that £200 isn't a lot to burn in one go, especially if you're splashing out on one of the best standing desks, too, but the majority of other brands are much pricier. The casters are the only thing that makes the chair feel more budget-friendly. These chairs have anti-roll wheels that are meant to be convenient and provide some safety. However, I had difficulty getting the chair to move in the position I desired. This chair is not for the faint of heart, so it's important to remember that.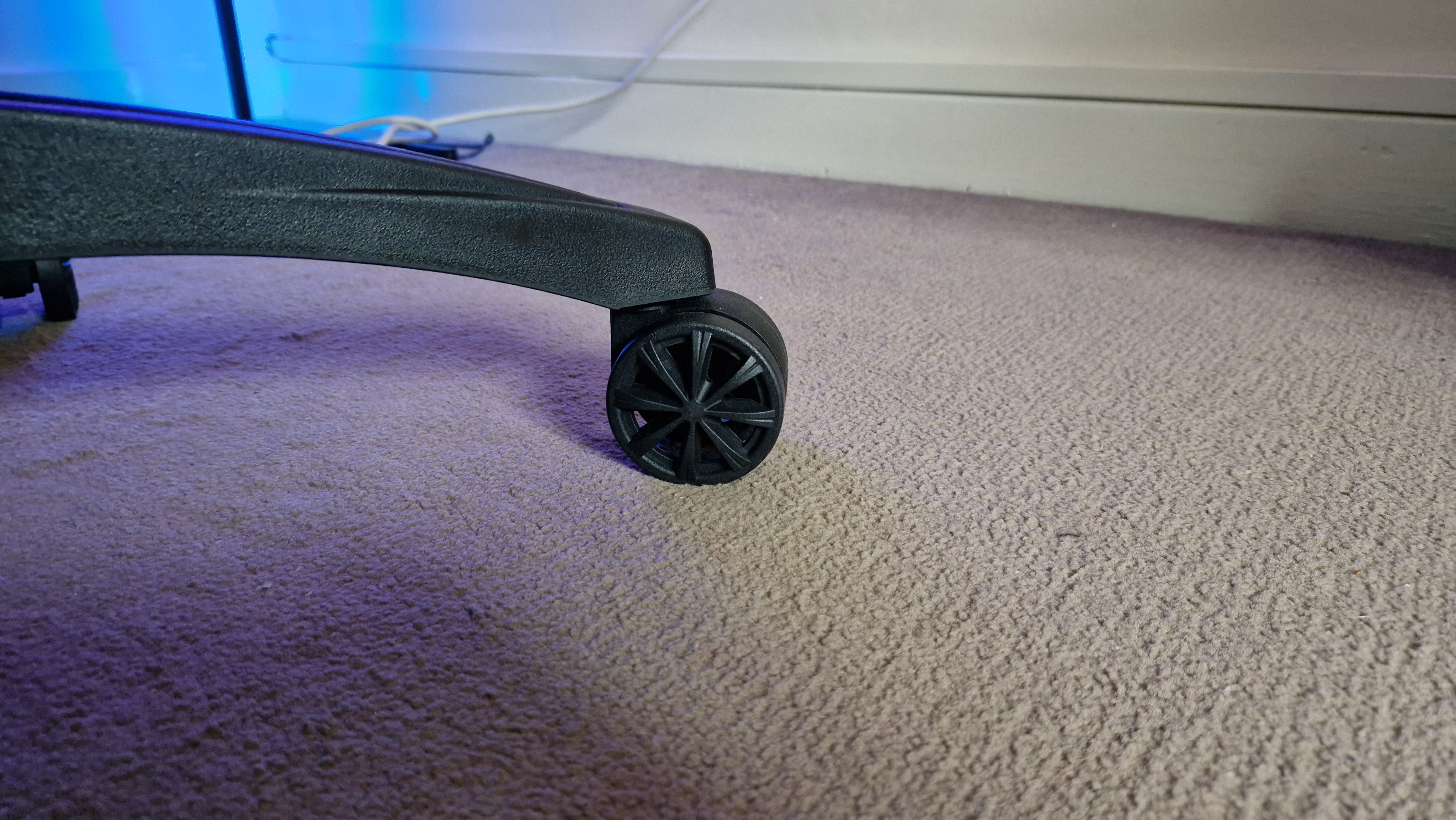 Assembly took only about half an hour. The assembly of the TC100 was easy. It felt solid once it was assembled. It has not squeaked or felt loose after almost a month of testing – which is a good sign. Clearer instructions would be a plus. When I opened the box and found no instructions on paper, I assumed they would be available online. Unfortunately, Corsair's instructions for assembly that fit all of their chairs weren't easy to find and I wasn't sure if the steps I was following would work with my product.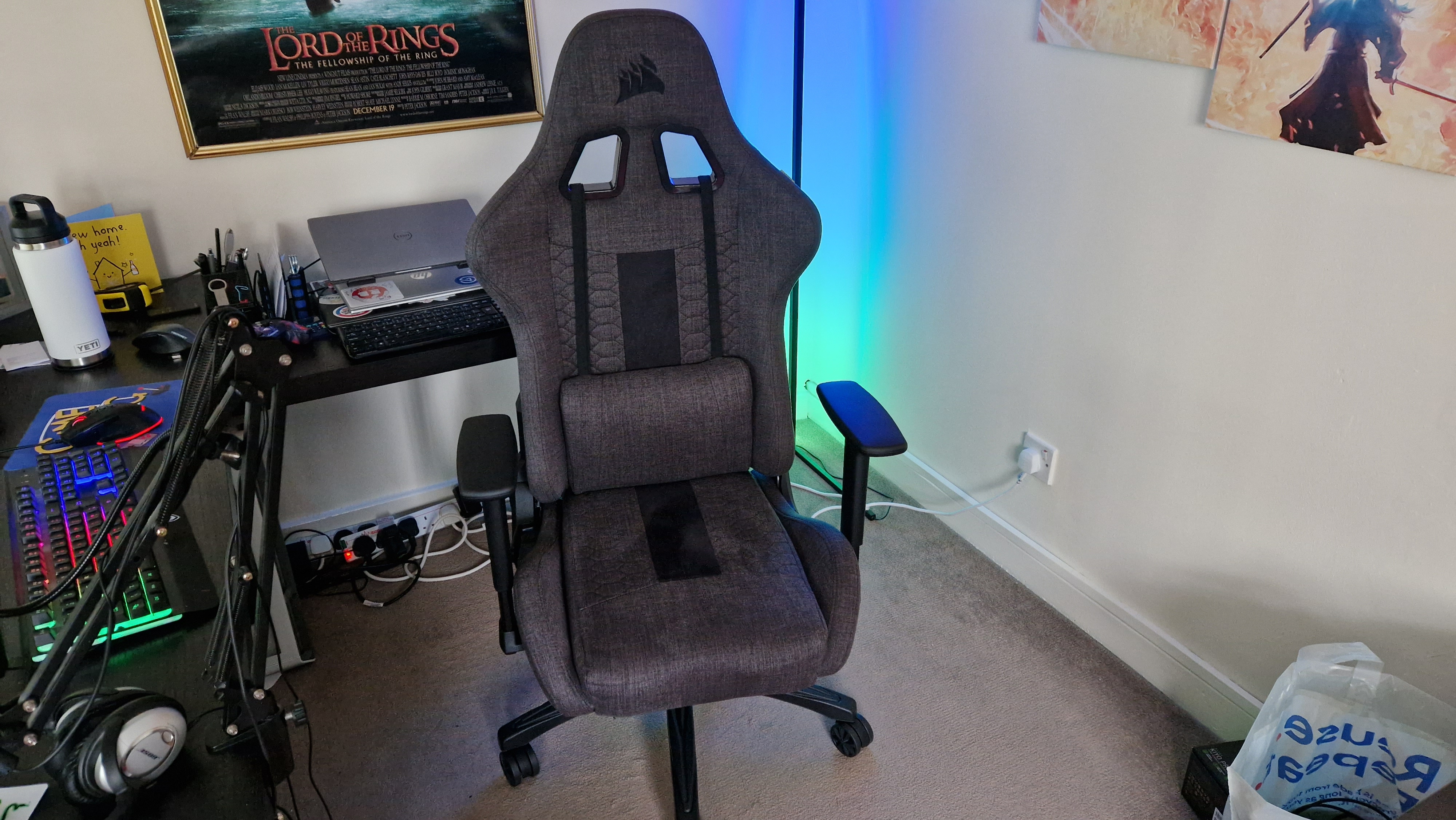 Should you purchase the Corsair TC100 Relaxed?
Anyone looking for a gaming chair is sure to love the Corsair TC100. It is disappointing that there are not more personalization options. Take a look at the best pink gaming chair. The quality of the seat is great for the price. 
$250 / £200 would maybe get you half a gaming chair from one of the biggest brands like Secretlabs. Even the Razer Iskur X, which is reduced at the time of writing, is priced well above the £350 mark. While the TC100 Relaxed has almost all the same features and design elements as the brands above, it also places a higher priority on comfort. It's also significantly less expensive, which is a huge advantage when living costs are high.
The TC100 is a great example of how you can get a high-quality gaming chair from a trusted brand for under $300.
We tested the Corsair TC100 relaxed
Before writing this review, the Corsair TC100 relaxed was my chair for about a month. It has been my chair for around a month. I have sat in it at least 7 hours per day, and used it almost every day for work. It has also been used for live streaming and gaming on PC, so it's definitely been put through its paces. 
I assembled the chair upon arrival and measured how long it took. The TC100 was a different gaming chair than the others we tested. It has a thicker construction and is made of a soft fabric material. I tried the chair with and without additional cushions to see how the different configurations made me feel and how they supported my posture. 
Check out our hardware policy to learn more about how we test and evaluate the latest gaming accessories.  
---
You are working on the perfect setup. Take a look at these The best gaming PCs?, best gaming monitorsThe, and The best gaming keyboards.