---
Jessica Cejnar Andrews /
Today
@ 2:03 p.m. /
Community,
Our Culture
Sister City Signatories Hope Kamome Festival Rekindles Post COVID Relationship With Rikuzentakata
---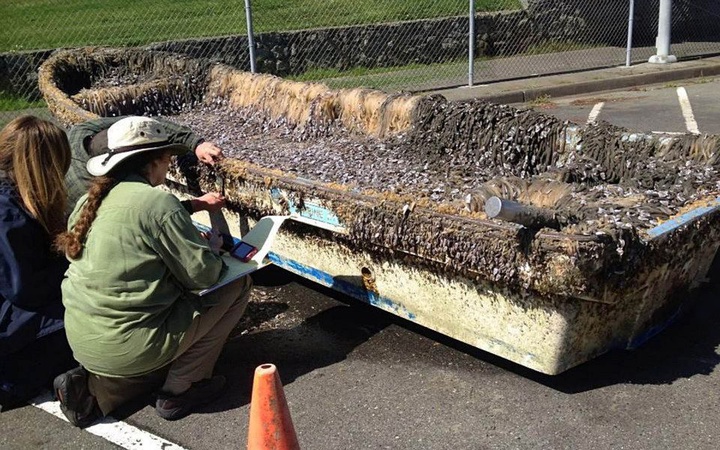 Bill Steven believed that he was eating more than he could chew when he first thought.
The 20-foot boat with the Japanese writing on it had been sitting at the Del Norte County Sheriff's Office for about two months after it washed ashore on South Beach in April 2013.
Steven and his team saved the boat by salvaging it from being salvaged and with the assistance of Redwood Coast Tsunami Working Group members, they discovered the vessel once belonged in Japan to Takata High School in Rikuzentakata.
Steven also knew that though the seaside community in the Iwate prefecture was still reeling from the March 11, 2011 Tōhoku earthquake and tsunami, they wanted Kamome — Japanese for seagull — back.
Steven was now wondering how he was going get it back.
"I was like, 'Am I going to be doing bake sales over the next two years to pay for this thing to get back to Japan?'" He told the Wild Rivers Outpost. "And then I thought, 'It's for high school kids and I have a high school kid,' so I yelled at him to come into the living room and asked if we could launch a project."
John Steven, five of his classmates, spent approximately a month cleaning Kamome clean of barnacles. Recology Del Norte and Use and Shipping Lines of Oakland helped the 20-foot fishing vessel return home.
Bill Steven stated that he didn't know the gesture would result in a series exchanges and a proclamation a friendship between Takata and Del Norte high schools. Five years ago, the Sister City pact was formed between Crescent City, Del Norte and Rikuzentakata.
The Kamome Festival on Friday will commemorate both 10th anniversary of the boat's arrival in Crescent City and an ongoing friendship that has put both communities on a world stage during the 2021 Tokyo Olympics.
"For most people things like this might not seem worthwhile," District 3 Supervisor Chris Howard told the Wild Rivers Outpost. "At the same time, looking at the long-term economic development potential from the sheer recognition of our community on a world stage during the Olympics, that return on investment far exceeded the amount of money the county or city committed to that relationship over the last (five) years."
The one-day festival will begin with tsunami and earthquake preparedness education, including emergency "go-bag" making from pillow cases, for school-aged kids. They will be able to see the Sister City mural and kiosk at Beachfront Park, and they'll also learn how to make origami and Kyoto fan folding as well as Kanji writing and card-making.
The mural will be unveiled by Harley Munger of Piece by Piece Pottery at 5 p.m.
An evening ceremony will start at 6 p.m. at the Crescent Elk Auditorium, where local city and county officials and friends from Rikuzentakata will tell Kamome's story. The event will include a traditional Japanese Taiko drum show and the screening the Kamome documentary on Peacock.
Tickets were given away for free but all have been taken.
Five Rikuzentakata people will be attending the Crescent City festival, according to Crescent City Mayor Pro Tem Blake Inscore. Inscore is part of the Kamome Foundation Board of Directors.
"They represent people from the new administration at Rikuzentakata," Inscore told the Outpost. "The new superintendent of schools is coming and, one of the things on Friday they want to do is visit the high school. They are also tourism and policy experts for the city. We have such a limited window with them because they're flying out Sunday morning from Medford, so they're leaving Saturday evening."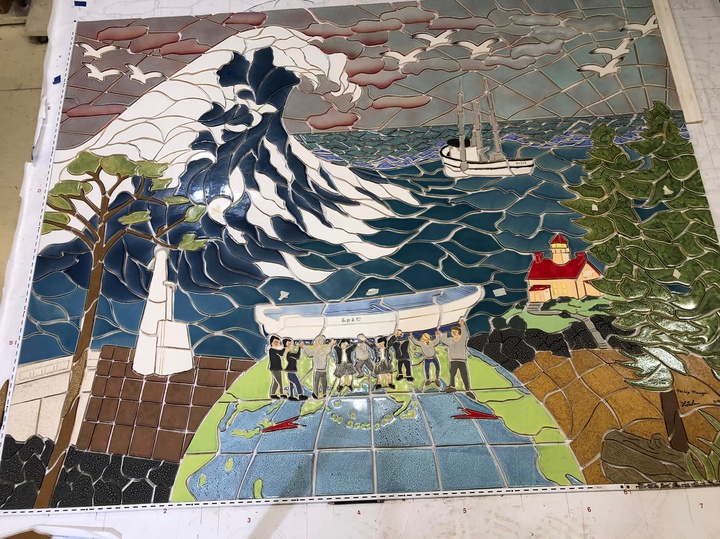 Inscore stated that he hopes that the delegation will be able to visit Stout Grove and the Jedediah Smith Redwoods State Parks' day-use area. However, what they'll be doing apart from the festival is largely undecided.
"The plan is to have them stop in at the Cultural Center while the kids' stuff is going on," Inscore said. "They can walk through, see what's going on, see the mural and by 10:15 (they're) going to meet with the school and get an hour and a half with that."
Since Kamome's arrival, in addition to being featured on NBC Sports during the Olympic Games in Tokyo, two local businesses, SeaQuake and Rumiano Cheese, have created products celebrating the Sister City relationship, Howard said.
He said that there was a great celebration when two pallets of Kamome Ale arrived at Rikuzentakata during the COVID-19 pandemic.
Then there's Rumiano Cheese Company's Kamome Dry Jack cheese.
"It's taking their dry jack and using the salt dehydrated from seawater from Hiroto Bay," Howard said. "So now, Baird (Rumiano) made that into a fundraising exercise where the proceeds benefit the exchange of students."
Howard stated that Kamome Dry Jack, other Crescent City products were displayed alongside Rikuzentakata at a San Francisco food fair hosted by the Consul General in Japan. He said that Kamome would not have made it to Del Norte County if it had.
Howard stated that both communities have rekindled their relationships after COVID. Kiyoshi Murakami, Rikuzentakata's senior executive, was instrumental in creating a delegation to attend the celebration in Crescent City. Howard expressed his desire to repay the favor in June.
"I'm hoping to find a large delegation to go over with us and really start having conversations again about the meaning of Sister Cities," he told the Outpost. "For them, the government to government relationships are extremely important and they have a brand new mayor who was just elected…. I think the importance of having a conversation with the mayor as soon as possible with a delegation from the community to show our interest is important."
Howard and Inscore have been involved in the Sister City efforts from the beginning. To keep that relationship alive, it is important to find new ideas and drivers.
Steven stated that Kamome Foundation could be one of the ways this happens, especially after a donation from Donna Sund and Kevin Caldwell.
Inscore suggested that keeping the festival an annual event could be a way to continue this relationship.
"We need some people who can bring some new life and some new ideas and say, 'Hey, this is what this story means to me,'" he said. "Sometimes you need to be willing to pass the torch and let people do things in a different way for it to have the longevity it needs."
---
SHARE →