Activate Technology has released a new report that shows that the metaverse hype surrounding non-fungible tokens (NFT) is dead. Both sectors will require targeted corporate interest moving forward.
NFTs will have new uses in the future to help companies build brand loyalty. However, sustained corporate development is required in the metaverse.
The company has released a new report that shows NFTs are now well past their peak bubble. Accordingly, the hype surrounding this space will slowly decrease.
NFTs are expected to mature into mature products as blockchain and Web3 will drive greater utility for tokens. Companies can also use the space to create communities around their brands. Buyers will also feel connected.
Starbucks offers the Starbucks Odyssey experience which utilizes NFT collectible stampeds. Owners will have access to exclusive coffee experiences.
The report also revealed a shift in demographics among current NFT market participants. It defines participants as those who "researched, discussed, browsed, bid on, purchased, displayed, sold, or created NFTs in the last 12 months."
The U.S. participated in the NFTs in an increase of 12% to 18% between 2021 and 2022. Yet, only a third of the U.S. populace is aware of NFTs. NFT participants tended to be from wealthy households with incomes above $100K.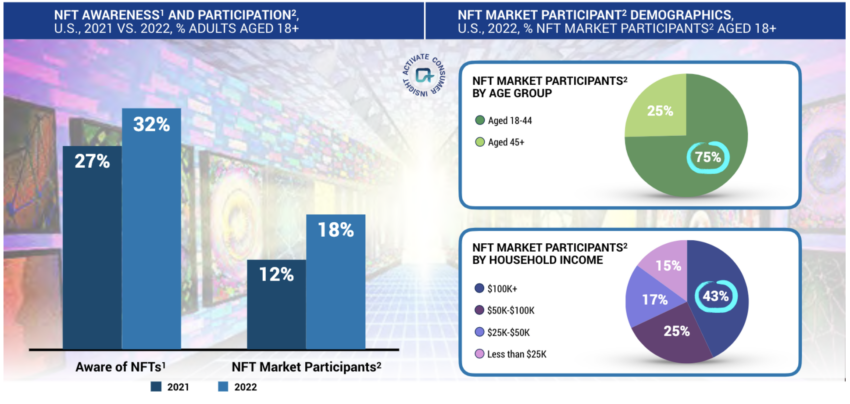 NFT sales on secondary and primary markets, including LooksRare have exceeded $23B in 2022. NFT owners now buy them to display on social media or for their collections. This is quite a departure from the NFT cycle of earlier years, when NFTs were traded and bought as speculative investments.
In 2022, 51% of 18-year-olds purchased them as investments. This is down from 76% last year. They are used by 19% more people for display purposes and 44% use them to collect digital items.
Twelve percent fewer people are buying them for novelty reasons. They are also bought to support artists and athletes.
According to Activate Technology: The NFT bubble is over. However, the metaverse hype cycles are also over. Companies must identify potential opportunities and allocate resources to this sector. Companies need to now focus on interoperability between virtual worlds to fully leverage the metaverse's benefits.
Twenty-plus years have passed since the creation of immersive virtual worlds within games. This is the foundation for the metaverse. In the United States, 77% of gamers have participated in activities other than gaming within games over the past year. They have taken part in avatar creation, personalization, and purchasing virtual goods. 
South Korea, Japan, China and China have spent an average of 30 hours per month playing Fortnite, Roblox and Minecraft. These elements include an immersive experience and social interactions.
Virtual reality and Augmented Reality will not see mass adoption. They will not be the future.
"We expect to see significant and sustained investment in innovation over the next few years," the report said in conclusion.
Disclaimer
The information on this website was published in good faith. It is intended for informational purposes only. The reader is solely responsible for any actions they take based on the information provided by our website.